Montessori at home
As a principal of Montessori kindergarten in Prague I have met many complains from parents how unfair it is when Montessori kindergartens are not financially accessible to common people. They said, that Maria Montessori had originally developed this methodology for the poorest kids so why only the wealthiest people are able to afford it now?
Unfortunately I had to admit that was true. Not for the reason of greed of those kindergartens owners but because our country does not financially support Montessori pedagogy on such a level to be accessible in all public schools. In different words – opening investments and fixed costs of private Montessori kindergartens are very high.
I had realized that even I would want Montessori pedagogy spread among all children – even to those, who are not from financially strong families. At that time I had come up with idea to create so called "Montessori room" and to show parents that Montessori pedagogy can be"taught" at home. Therefore I have started a special seminary focused only on home execution. Let's try together how easy that is.
Mgr. Michaela Brejchová
Parents Testimonials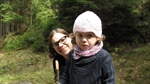 I have met Mgr. Michaela Brejchová in times when she as director and teacher in private Montessori kindergarten. Since the beginning I have liked her enthusiasm for Montessori pedagogy and especially ...

M. Brejchová has a special gift of attitude towards children - children literally love her for her kindness and also for her creating new activities all the time. In addition M. Brejchová is very ...
show all testimonials